Love You forever - ook,
I am not hearing impaired, but I often watch TV and movies with the closed captioning on. I cannot really say what about it makes it more enjoyable to me--no one has ever understood why I do it, maybe it has to do with how I process information (I do have trouble listening in lecture classes, maybe a learning disability etc.), but my point is to say that I am also interested in getting closed captioning on iTunes shows.

I wrote to Apple on the feedback part of their web-site about this. I was wondering if you might know better what the law is about closed captioning. I always assumed it was required for network television shows. Is it not for network shows that appear online?

Anyhow, it's functionality I would definitely like to see.

Online is a grey area because it's new...

I'm not completely familiar with Closed Captioning laws. I believe all new TVs are required to have a Closed-Captioning decoder, and I think that all Network shows (and maybe cable-based, too) have to be captioned.

A quick Google gives this:
http://www.captions.org/caplaw.cfm

Which explains in more detail...

Regardless, I have seen a number of hearing-impaired users comment on the issue before. It would be so simple to implement, after all...
---
Music - I Love You Forever
I purchased a Xoom over the weekend it's a great device, a little heavy, but very awesome for its first pass. I used to own an iPad 1, gave it away, didn't want an iPad 2. Why do I need two devices of the same OS where the UI was designed for the iPhone (smaller device) to begin with? I love the versatility of honeycomb, widgets are phenomenal on a large tablet screen. Everything is great about the interface so far, although there are a few things here and there which make no sense, but I'm sure they'll fix that. I ran into some bugs, called Moto support, they troubleshooted with me, fixed it and were really cool about it. As far as hardware, the materials are great, but definitely Motorola needs to learn a thing or two about button placement. They put the sleep/wakeup button on the back of the device. I used to like to hit the home button on the iPad to wake it up and do stuff (while I was having a bowl of cereal for example), with the Xoom I can't do that, I HAVE to pick up the device. Another interface/hardware awkwardness are the volume buttons and I cannot find a way to change volume within the device itself, unless I press the volume hardware buttons a window will popup.

Other than that, I can live with all this, and the device is extremely awesome and a fresh feeling of a new UI the way it should be done for a tablet.


You list ONE issue with the iPad, that it looks too much like the iPhone, and then go on to a laundry list of issues on the Xoom that culminates in a tech support call and THAT is your preferred device?

Rock on winner. I have a bridge I want to sell you.
---
sep Love+you+forever+ook+
Every day Apple stores get shipments of iPads....but they don't sell them when the arrive. They hold them for the line that forms the next morning.

Seems odd to me. Like they are purposely making a spectacle in front of the store every morning.

This morning the store I went to had NO AT&T models?!?!?! So tomorrow morning there will be yet another line of those that failed today (including myself).

On topic, I called Best Buy and was told that unless I pre-ordered before the day of the sale, I could not get an iPad 2. My co-worker walked in last week off the street and purchased one. Why the inconsistent message? I don't get it.

That is the marketing strategy of Apple, right? Like they spread rumors so news websites / forums like this spread the fire. Great technique for just a few bucks of marketing. Very interesting! Looking at myself.. i am waiting for the new iMac. I do not know if it will come, I only know that they update the models somewhere in May. They haven't done anything yet to turn on the marketing machine for the new iMac, but there are already people thrilled to buy one becouse all the rumors and waiting without having any information.

We are the marketing of Apple. They know how to do this as no other company can. It is a choice if u want to be a part of it. :o
---
Love+you+forever+ook
hyperpasta
Nov 28, 06:27 PM
And I don't understand why they should...Can somebody explain it?

The rationale is that iPods are used only for stolen music (which they aren't) and this will help offset the losses (which it won't).
---
I Love You Forever
maclaptop
Apr 12, 10:33 PM
I wouldn't worry. I have an insider source who assures me Apple is basing its entire iPhone 5 product launch on when your contract ends. Here's a direct quote from Steve Jobs:

"While the antenna issues forced us to accelerate our product cycle in favor of a redesign a year earlier than expected, and while the earthquake/tsunami disaster in Japan has added several of its own complications, rest assured that Apple will take every conceivable measure to ensure that the iPhone 5 ships at a time close to the end of mlmathews' 3Gs contract. We have been quite fortunate with the success of out iOS devices in recent years, but we're not about to start pushing our luck here."

You're right.

I have confirmation that the upcoming iPhone release date is Tuesday January 17, 2012.
---
Love+you+forever+ook+
Again, come on now...... it's not a question of whether people grasp it. It's question of who finds it funny and who doesn't. It's possible to "grasp" a joke and still not find it funny once it has been done to death. Just because someone doesn't think it is funny doesn't mean you have to insult their intelligence by saying they just don't "grasp" it.

No, you're putting words in my mouth. People can be intelligent and still not get the essence of a reoccuring joke.
---
Love+you+forever+ook
Super stoked! It's finally coming!!
---
Love+you+forever+ook+
We'll like a previous post said, they must release serveral phones, because i'm sure they want all the market they can get.
Perhaps. But thats about right for a Nokia N series with most of the features we have been mentioning.
---
i love you mom and dad quotes.
AppleKrate
Sep 19, 07:53 AM
... and actually getting any work done.

speaking of which...
---
love you forever book,
puckhead193
Aug 17, 12:27 AM
i went to my local apple store, and holy crap the thing is really fast. I'm tempted to get one, instead of an iMac, the only thing that's holding me back is the size.
---
I+love+you+forever+gif
randyharris
Sep 18, 11:59 PM
It would be fantastic for the MacBook to have the Core 2 Duo, (MacBookPro is a given), the fact is, Apple needs to do this update to stay in the same ballpark as the pc notebook makers.

Now if they could just give the MacBook a real graphics card, I'd be a taker.

Randy at MacSeven.com (http://www.MacSeven.com)
---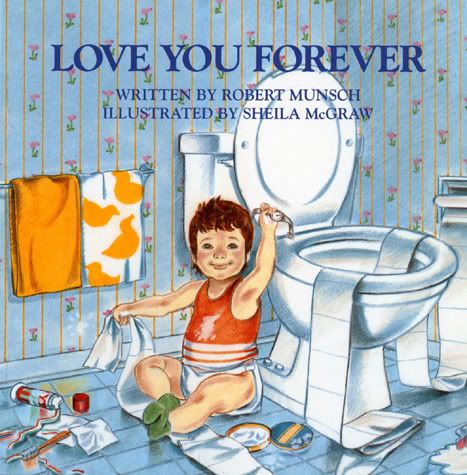 Love You Forever by Robert N.
OK, that's wierd. Who would get angry about having research into what the public wants done for them???

No wonder Nintendo sucks so much.

BTW, Congrats on ur 500 Posts!

I've never heard of Nintendo getting "pissed off" with the public for suggesting ideas, etc. Hell, the people who did the Afterburner mod for the original Gameboy Advance probably helped to convince Nintendo of the right way to do a backlight eventually (in the GBA SP). And the constant calls for Nintendo to add wireless capabilities did lead to built-in wifi on the Nintendo DS and the Wii.

What makes you say Nintendo sucks so much?

As far as "legalities" go, usually corporations do have to generally not take unsolicited ideas, commercials, marketing materials, etc. developed by the public. The reason for this is that they want to avoid being sued later on if they do something similar. I don't know how much that would apply to something like product design, etc. but it all sort of falls into the same general category. But the more obvious examples would be things where, for example, someone designs a new computer and sends it to Apple; Apple eventually releases something quite similar to it, and the person who sent in the design tries to sue them for taking their idea and not paying anything for it.

Not to say that would ever really hold up anyway, but it's why most corporations do generally have that policy of not officially accepting anything unsolicited from outside the company.

-Zadillo
---
Love you Forever
SAD*FACED*CLOWN
Jun 9, 09:46 AM
With so many options for retail purchase, there's no need to camp out, even wait in a long line to get one.
---
it Love+you+forever+ook+
thejadedmonkey
Jul 27, 09:44 AM
WWDC, WWDC, WWDC.... Or perhaps another one of those unannounced bumps.. I really don't like them though, I wish Apple would go back to big announcements on things like this, but yeah...that's life. Now lets have the upgrade!

So since these new mobile chips are pin-compatible with the Yonah chips (like the one in my MBP), will it be easy/possible to simply buy one and upgrade myself?
Yes. I believe people who have gotten their hands on Core 2 Duo beta chips have put them in their mini's with no difference (except a massive speed boost)
---
Robert Munsch#39;s Love You
bring it on!! my razr isn't that impressive. in fact, not any phone i've ever had was. maybe apple can change this
---
Love+you+forever+ook+
gnasher729
Jul 28, 06:32 AM
AFAIK, the Merom CPUs have an improved SpeedStep technology, so that
on average the heat generation may infact be lower for Merom.

Do you have any links that describe Merom's SpeedStep compared to Yonah's? I thought Yonah's was quite good, allowing you to reduce both clock speed and voltage simultaneously. It is always a problem with Intel, they say "improved SpeedStep", but they never tell you "improved compared to what".
---
Love+you+forever+ook+
The hypocrisy coming from the left in the media on this issue is palpable...

I was stewing about this, and went to the Google News page, more "liberal" sites like the Huffington Post or MSNBC, my local paper, FoxNews and in every case, there were stories that were either critical or were about the criticism or the reasons for the criticism of the Libya action. (Stories about Senator XYZ saying coalition has issues vs. a story about the issues with the coaltion). So, it's pretty obvious that the mainstream media are covering this story, and reporting both the white house story and providing analysis and criticism.

I'm confused by what you think is so hypocritical or who you think is being such.

Are you talking about hipocracy from "the left in the media" or the left?" Do you expect every story to be critical of President Obama and Libya? Do you think every story that came out during the GWB administration was critical of Afghanistan or Iraq? Especially in the first days? Do you think every story from certain media outlets is liberal? I mean, is a story automatically liberal because it comes from NPR, or say, MSNBC or Huffington Post? Someone critiqued your using Fox News as a source, but what you quoted was mainly just facts. I think Fox News often inserts more of their spin into stories than their competitors (and as a result, their news reporting often appears tainted or is assumed tainted), and they are always supportive of the GOP, but that doesn't mean that I think the facts they report are any less fact. Is critique of the President from MSNBC any less critique because its coming from MSNBC? Are you suspicious of their criticism? Do you think they are using kid gloves? Would you expect a hypothetical neutral news site (if it exists) to be more critical? Would it be as critical and partisan as Fox News?

On the other hand, are you talking about hipocracy by those on the left, in the media? I mean, you quoted the President and what he said. If so, it really hasn't got anything to do with the media, right? Also, doesn't it seem like President Obama got pushed into this conflict? There were allies and some organizations clamoring for involvement, unlike prior to Iraq. The President was making statements that indicated reluctance to get involved. The military was saying it would not be simple, would involve real attacks, and it may be too late. But, there was pushing by our allies, human rights groups, etc... Plus, aren't we on the hook to have our allies backs? I mean, isn't the US on the hook to pay back a lot of favors to the Iraq/Afghanistan coalitions?

Unlike Iraq where the President was actively trying to sell the public on a conflict he, and a small group of insiders, wanted. Using evidence that was weak at best, and we now know was false. This salesmanship initially received pretty positive reporting, which only turned really sour as the evidence of betrayal and lies started coming out.
---
Love you Forever
I actually thought looking at a history of where my phone has been on a map was kinda cool. Bummer.

Yes - I was hoping when they 'fix' this that they will leave an option in the settings to keep that data - I absolutely enjoyed browsing through the data and revisit my trips that way (and sometimes wondering 'what the hack did I do in that location?)
---
Love+you+forever+ook+
Would be grand if all this hype was for iMovie. :)

Apple needs to distinctly separate Final Cut Pro from consumer apps.

Personally as a Pro-sumer, I'd like to see iMovie align with the iPad version (use the timeline!) and sync to that. I'd like Final Cut Express as an option to do more advanced editing with my iMovie library - just choose which app I want. But these don't belong with NAB announcements :)
---
happyduck42
Apr 19, 02:12 PM
According to Wikipedia It was released in Feb before the iPhone was released..

Wikipedia is wrong then; it was announced in Feb after the iPhone in January 2007.
http://www.gsmarena.com/samsung_f700-1849.php
---
Is having more cores more energy efficient than having one big fat ass 24Ghz processor? Maybe thats a factor in the increasing core count.
Actually, this is well documented.

There are serious electrical and physical problems with jacking up clock speeds much further than they are now. Intel managed to push their chips to 3.4GHz, but the power consumed was tremendous.

When you can't ramp up the clock speed, your next best alternative is to go for as much parallelism as you can - increase the number of instructions you can execute in a single clock.

Chip makers achieve this in a wide variety of ways, including multiple CPU packages on a motherboard, multiple cores per CPU package, multiple threads per core, and multiple functional units per thread.

And yes, a single CPU at 3GHz can easily consume more power than two CPUs (or two cores) at 1.5GHz.

As for your theoretical 24GHz processor, such a thing is simply not possible with today's technology. (Well, there were some university experiments that hit insanely fast speeds, but don't expect commercial products any time soon.) Given the heat/power curves of today's chips, I wouldn't want to think about the cooling requirements of a 24GHz chip if you could somehow manage to build one.

Of course, breakthroughs do happen, and higher clock speeds might become practical in the future. But multi-core tech isn't going away - we'll simply end up with multiple cores at higher clock speeds.
---
notabadname
Mar 22, 03:42 PM
To store data temporally. That is what RAM does.

I believe the question was about what App on the iPad 2 is hindered by the amount of RAM. What are you trying to do, with what App, that needs 1GB? If the RAM isn't enhancing the experience, than what is the point other than to increase cost? You could put 4GB in an iPad too, but you will likely notn use it (with the current 1/3 million Apps). So what is the magic number that works seamlessly for 99% of what people use the device for?
---
Sure, but did Samsung patent it?

It's not about 'who copied who?', but 'who copied after who patented?'

All the corporations mentioned in this thread are dinosaurs and know what type of business they are in. If they fail to patent their (good) ideas than it's a given that someone else eventually will. Doesn't matter whether we or anyone thinks that's right or wrong. It's normal business practice. Any corporation thet develops products in a hot contested market like this and doesn't play this game will lose business or cash.

Samsung didn't stole it from Apple since they were first with the design, end of story.

Samsung can claim Apple stole their design and patent it. That's fraud right since it's not their own idea?
---
mmmcheese
Sep 13, 09:23 AM
It would be nice if 10.5 would allow a more 'blind' method to utilize these cores, versus having programmers specificly program for multi-core. Now that would be extremely helpful and allow a more simultanous workflow.

Do you mean like how BeOS did things?
---